A unique certificate award ceremony took place at the Flower Sea Park marriage registration office, where the winners of the "Outstanding Families" in Gangcheng District, Li Qinghua, and provincial moral model Sun Bo, presented a marriage certificate to a newlywed couple, read the marriage vows, and offered heartfelt blessings. It is the first time that Gangcheng District Civil Affairs Bureau has invited distinguished guests to present marriage certificates to couples.
The "Distinguished Guests Award Marriage Certificates" system is an innovative initiative in the construction of marriage culture in Gangcheng District. The Civil Affairs Bureau has appointed 22 individuals, including the "Moral Model of Gangcheng", "Outstanding Families" awardees, labor models, moral models, National People's Congress representatives, members of the Chinese People's Political Consultative Conference, and outstanding teachers, to serve as distinguished guest presenters. They take turns presenting marriage certificates to couples at the Flower Sea Park marriage registration office on festive occasions related to love and marriage, such as Valentine's Day, Chinese Valentine's Day, and every Saturday morning.
Li Qinghua, who attended the inaugural certificate award ceremony, is a winner of the "Outstanding Families" award in Gangcheng District. While fulfilling her duties as a village committee member, she wholeheartedly takes care of her mobility-impaired mother-in-law, embodying the virtues of respecting and honoring the elderly through practical actions. Sun Bo, a moral model, has donated a total of 60200 milliliters of blood over the past 24 years, making "dedication" a norm in his work and life. He writes social responsibility and great love with his passionate actions, consistently setting an exemplary role model.
"We were deeply moved by the certificate award ceremony, which left us with unforgettable memories. We will learn from our elders and support, understand, and accept each other in our marriage, jointly managing our home," said the newlyweds Luan Xinyu.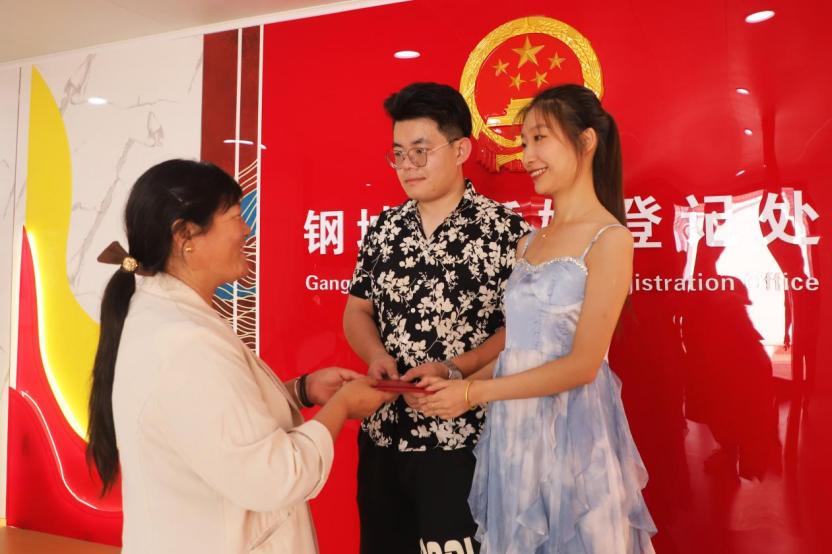 The "Distinguished Guests Award Marriage Certificates" system introduces the practice of inviting distinguished guests to present certificates and read marriage vows into the marriage registration process. It allows couples to further comprehend the responsibilities embedded in marriage and family through solemn and sacred ceremonies. This initiative helps the younger generation establish correct views on love and marriage and consciously become practitioners and promoters of new wedding customs.
Declaración: este artículo se reproduce desde otros medios. El propósito de la reimpresión es transmitir más información. No significa que este sitio web esté de acuerdo con sus puntos de vista y sea responsable de su autenticidad, y no tiene ninguna responsabilidad legal. Todos los recursos de este sitio se recopilan en Internet. El propósito de compartir es solo para el aprendizaje y la referencia de todos. Si hay una infracción de derechos de autor o propiedad intelectual, por favor déjenos un mensaje.